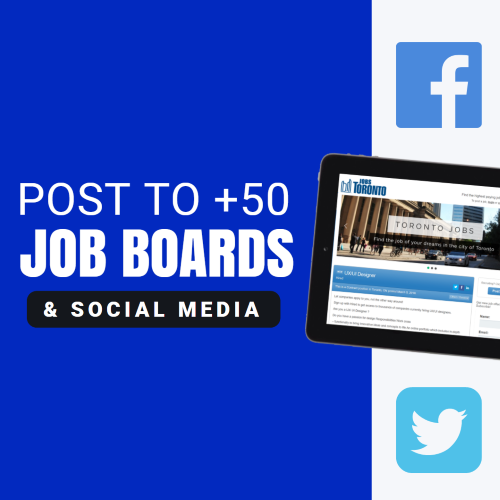 Featured: Job Network Ecosystem
Want your job offers to have more visibility? We can help.
Human Resources and professionals in the recruiting industry are always struggling for the same thing: better candidates and better visibility for their job offers. Since we know that you do not have any time to waste, we have developed a smart technology that will do the hard work for you.
Our software reads your job offers and publish them into more than 50 independent job boards. It also promotes the offers in relevant social media channels including Twitter, Facebook and Reddit. It is not random publishing: it uses a decision-tree learning algorithm to post your job offers where they will attract more interested people.
A bless to both recruiting agencies and big job providers, our Job Network Ecosystem makes sure that your job offer has more visibility, more reach and consequently more candidates.
Interested? Send us a message.
A top business has multiple tools. We make sure they communicate.
Our goal is to provide high-quality software that connects business with internal and external tools. We conceive business ecosystems for our clients with fast integration and interchangeability between platforms.
Hållimjölken is a tech company that developed a variety of plug-and-play APIs for the recruiting, automation and business intelligence industries. We understand that management of multiple platforms can be very time-consuming and prone to human error.
How often you must import a spreadsheet in a software? Or export some information from one database to another? How many times you had to manually insert the same information over and over again in different platforms?
That's where we come in. You just show us your starting point A and your destination point Z.
We take care of the rest of the alphabet.
Already decided that it is time to stop wasting time? Good choice. Tell us about it.
Interested in using one of our APIs? Or maybe you want to develop a custom integration for your business platform? Tell us about your goals. Explain what you have and what you need, and one of us will contact you with more details. We usually answer within 24 hours of receiving a message, but during the weekends we reserve ourselves the time to relax and read a book or two.
Our Values, Clients & Partners
Quality
For us this is the most important value we can offer. Decent, bug free, reliable and long lasting software that will always work as intended.
Teamwork
Teamwork means that we want to collaborate with you. You become part of our team as well. Working together is the key to delivering a top notch result.
Flexibility
We are proud of being able to deliver APIs and content in multiple programming languages and formats. It does not matter your source, we can work with it.
Security
We only manage our clients' data using encrypted channels. All our development is made using community vetted open source software.
We hope you enjoyed your stay in our website.
If you want to learn more about our existing APIs, or if you want to start a new project, drop us a line! We will be more than glad to explain how our whole process works, including the first analysis, requirements gathering, project management, development, testing and go-live deploy. Anyway, we have it covered.